Jam-Packed with Cutting-Edge Features
Club Manager is designed to grow with your organization. Simply select the features you need and eliminate the ones you don't.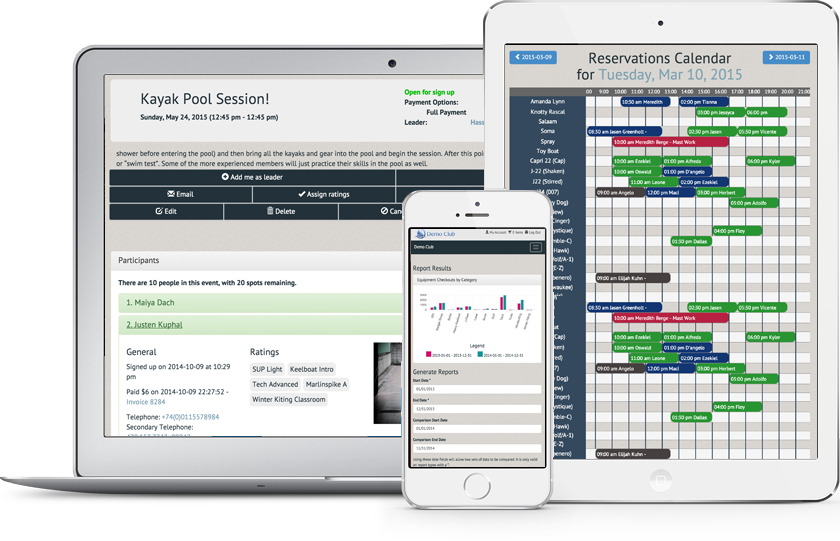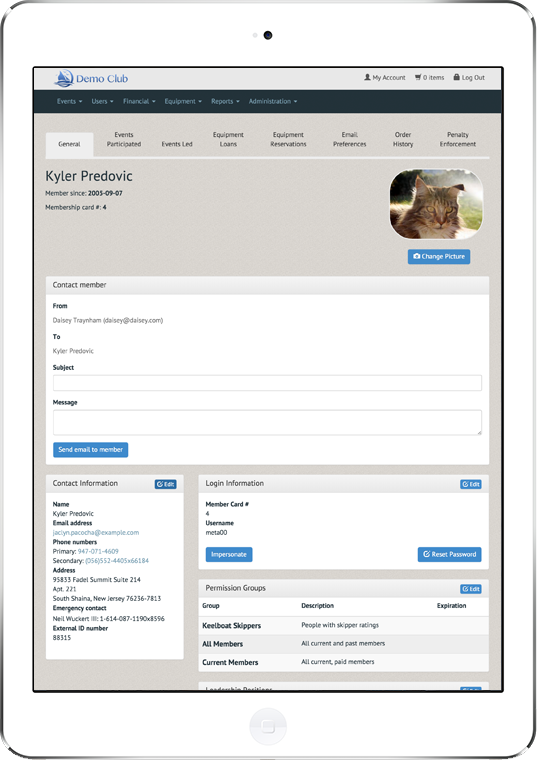 Membership Management
Club Manager makes your processes more efficient and saves time and money by automating tedious tasks. All membership information is centralized and easily accessible by administrators, event leaders, and members. You can also use Club Manager to stay in touch with members, your board of directors, and employees.
Outreach

Email lists and templates make targeted email outreach hassle-free.

Search

Easily scan and search your Member Database by user, event, membership type, etc.

Sign Up

Monitor new member signups and instantly store emergency contact info.

Track

Easily track participation and volunteer hours in one place. Keep tabs on members' usability/skill level.

Automate

Streamline data collection by automatically storing it in your accessible database.
Equipment Management
Club Manager tracks the maintenance status of equipment. You can easily tag items with maintenance needs and assign priority levels based on severity. Member progress tracking can automatically award certifications and ratings, which ensures members can only checkout equipment they are qualified to use.
Visibility

Administrators have access to real-time and future views of available equipment, so you can easily monitor checkouts and reservations.

Self-Service

Members can easily reserve and sign out equipment right from their desktop or mobile device.

Integration

Simplify equipment checkout by integrating membership cards and scanners so members can only reserve and checkout equipment they are qualified to use.

Track

Easily track equipment usage, scheduling, and maintenance requests. Monitor who used what equipment when to maintain member and staff accountability.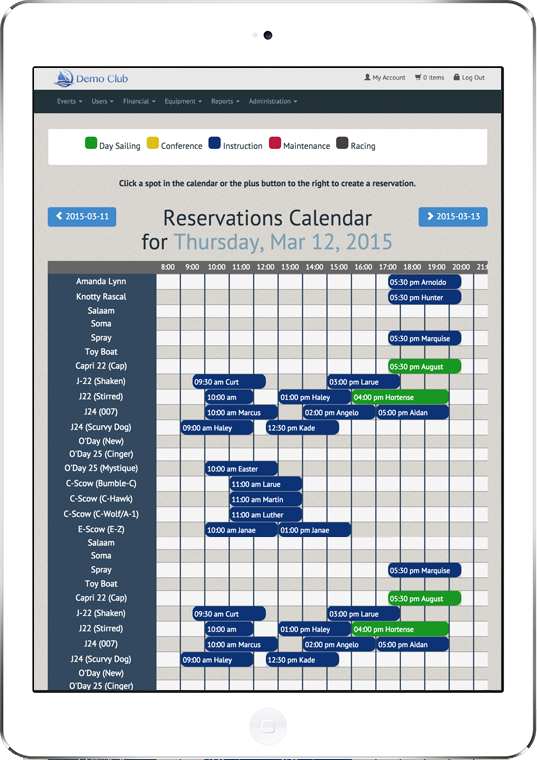 Event Management
With Club Manager, Members can sign-up online and administrators and event leaders can create free and paid events for members and non-members. Administrators can also enable prerequisite restrictions, add waiting lists, accept deposits or full payments, print attendance records, and more.
Visibility

Color-coded reporting tools display who has paid and who owes money.

Organize

Categorize the events by type and display them in calendar or list view. Administrators can print attendance rosters that include each attendee's name, picture, and emergency contact number.

Store

Keep all of your forms and member requisites in the cloud and access it anytime.

Integrate

Easily integrate events with Google Calendar and Microsoft Outlook. Contact info is stored with the event, so you can easily get in touch with event participants.
Sales Management
Club Manager offers both onsite and online sales. It allows your organization to compile and track both online and on-site event and merchandise sales. Any time that you are running low on merchandise, an automated email is sent to your office so you'll know ahead of time what needs to be ordered and when.
Classify

Classify memberships and/or offer discounts to certain member-types, such as students or seniors.

Payments

Club Manager allows members to instantly pay for their rentals. Once the transaction is complete, just click on the invoice number to view a PDF of the sale.

Store

All of your forms and sales records are kept safe and secure in the cloud. If you're looking for something specific, a quick database search will surface your results.

Integrate

Club Manager integrates with popular accounting software, so you can instantly track your sales and know your numbers.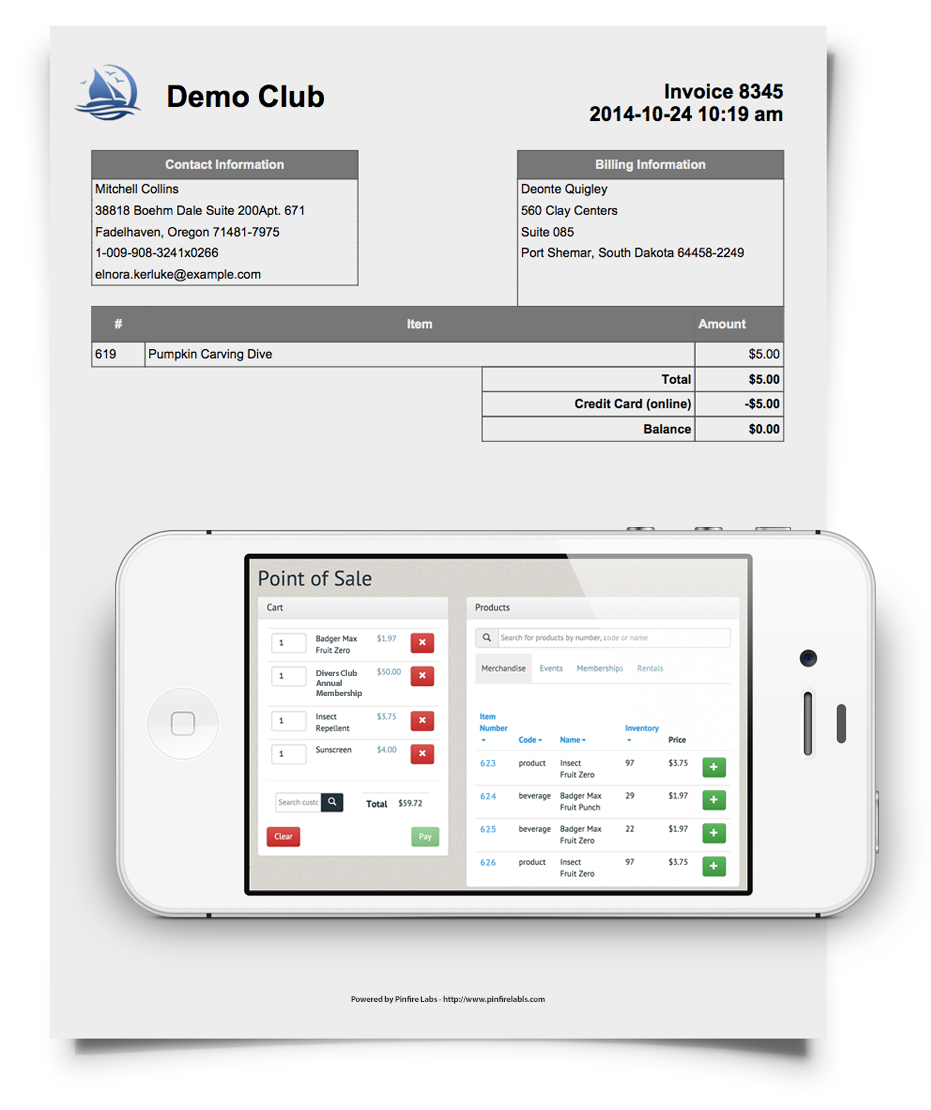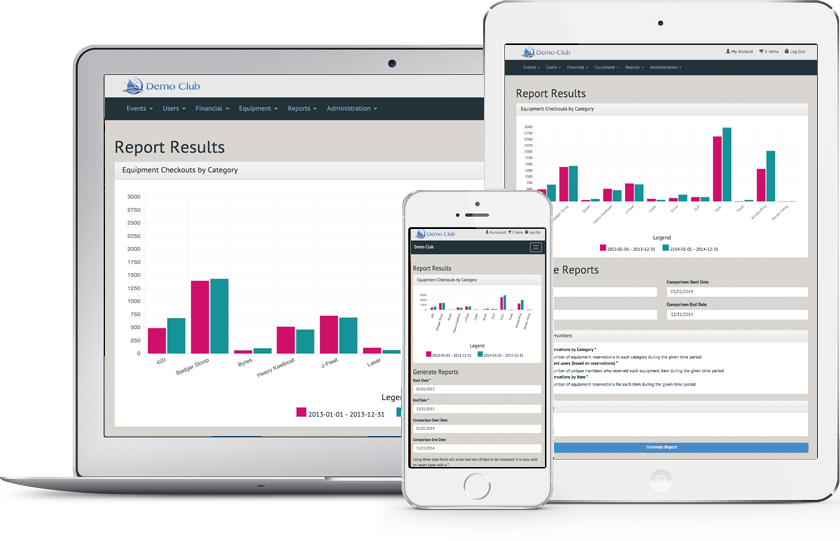 Reporting
Club Manager doesn't just make managing your club easier - it also makes it smarter. You can gain valuable insight into which products or events generate the most revenue by running tailored reports, generating statistics for events, tracking equipment usage, and a whole lot more.